New Year Catalog 2018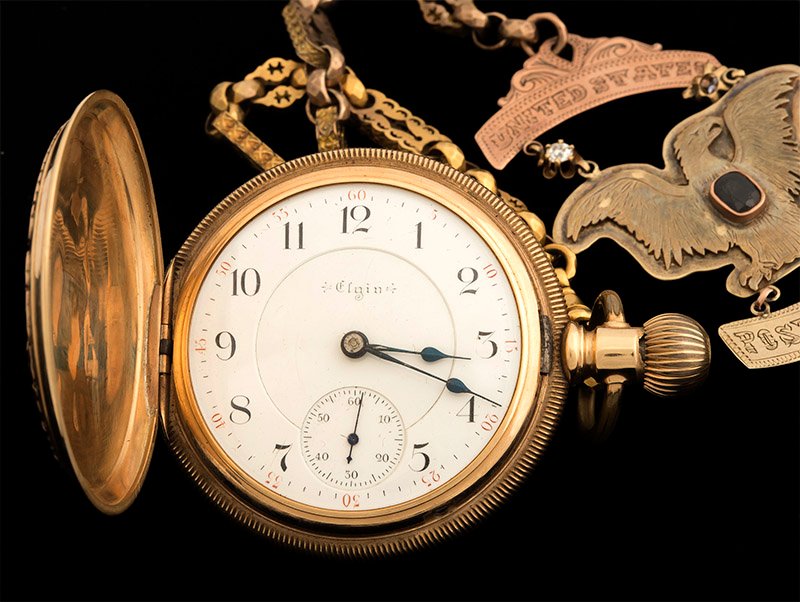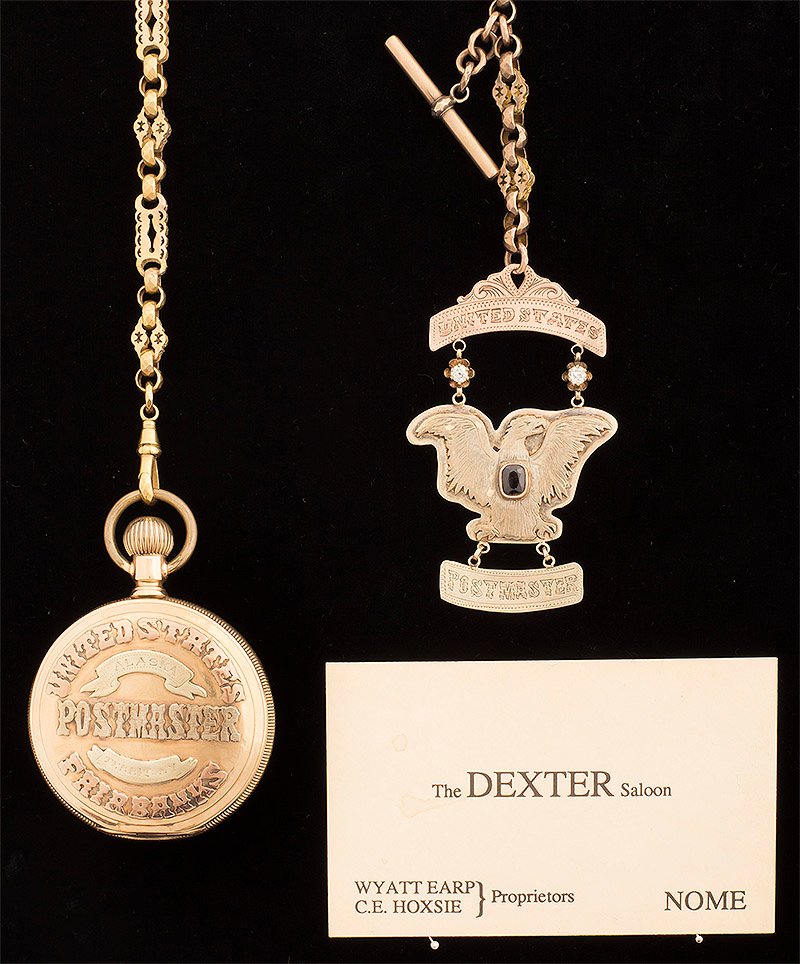 Wyatt Earp and John Clum standing together in
the Gold Mining town of Nome, Alaska Territory
Wyatt Earps Saloon in Nome, Alaska
NY-001
Wyatt Earp Presentation Gold Watch from the Klondike Gold Rush custom made by a jeweler Presented to his friend and Tombstone Mayor John Clum

Made of 3 different colors of Gold with ornate Nugget chain and Watch Fob in Alaska Territory America's last Gold Rush

Wyatt Earp presentation Gold watch to Tombstone Mayor John Clum during the Klondike Gold Rush

Wyatt Earp the most famous lawman in Western History – from Dodge City to the shoot-out at OK Corral in Tombstone. A magnificent custom watch made of 3 different colors of Gold presented by him to his best friend and Tombstone 1st Mayor John Clum when they both traveled from Tombstone to Alaska together during the Klondike Gold Rush. John Clum had just been appointed the 1st US Postmaster of Alaska Territory and Wyatt Earp had this watch made for him of Alaska Gold. Wyatt opened a Saloon and Gambling Hall in Nome, Alaska and his original business card for the "Dexter Saloon" accompanies this historical watch. Beautifully inscribed "Congratulations to my good friend Postmaster John Clum upon your appointment Wyatt Earp" the watch is elaborately made in Alaska during the Gold Rush using 3 different colors of local gold ornately designed with "United States Postmaster Fairbanks, Alaska Territory" on one side and the American Eagle and Stars on the other, with a Gold Nugget chain with a similar tri-color gold fob depicting the American eagle. In near perfect condition using an Elgin watch face serial #41913 U.S. Assay 14k gold, obviously well cared for and a historical gift between best friends when they cast their fortunes together from Tombstone to the Gold fields of Alaska, accompanied by Wyatt Earp's business card.
$125,000
NY-002
Tombstone Mayor John Clum, friend of Wyatt Earp, as an Apache Indian Agent seated with his first wife Mary and leaders of Geronimo's Tribe in 1875.

John Clum led a remarkable life, he played in the very first football game in 1869 at Rutgers University, and sought his fame and fortune in the west and became the US Indian Agent for the Apache Indians in the Arizona Territory capturing Geronimo in 1877. He then became a newspaper man and published the Tombstone Epitaph newspaper and became Mayor of Tombstone, a silver mining where he befriended the famous lawman Wyatt Earp and became his ally in fighting cattle rustlers and outlaws. Clum was an eye witness to the shoot-out at the OK Corral when the Earp brothers decimated the Clantons in Tombstone Arizona in 1881. A decade later he and Wyatt Earp traveled to the Gold Fields of Alaska together during the last great Gold Rush in American History. Here Clum became the United States Postmaster for the entire Alaska Territory, handling the mail and the gold for the miners. Wyatt opened a salon and gambling house and they remained friends thoughout their lives and both ending their careers in California. A wonderful original and unpublished large albumen photograph 6 x 8 inch.
$2,500
NY-003
The pistol General Kearney captured from the Palace of the Governor of New Mexico Santa Fe in 1846

A silver mounted Miquelet pistol captured by Gen. Philip Kearney in 1846 when he led the American army into Santa Fe New Mexico and claimed it for the United States

General Stephen Watts Kearney was commander of the US Army of the West during the Mexican War, he first captured Santa Fe NM in 1846 then went on to capture Los Angeles California during the Mexican War when America gained over a third of its land mass. This important gun comes from the Kearny family, the direct descendants of General Kearney and has never been on the market before. A rare gun made in Mexico City in an officer grade military style, for high ranking Mexican Military and Government leaders.

A magnificent miquelet pistol with an elaborately carved stock with checkered grips and an owl-head shape grip, with all solid silver mounts including the silver medallion above the trigger guard depicting a "Chalice" with the words "Jsus Jeffe" engraved within it and a gold wash .69 caliber eight-inch octagon barrel, this is exactly the type of gun the Governor of a Mexican State would have carried during official ceremonies. This gun was either gifted to General Kearney by Lt. Governor Vigil or offered as a token of surrender taken and from the Governors palace as Governor Armijo had abandoned the capitol at Santa Fe and retreated to Mexico with his canons and army leaving the lieutenant governor to surrender the city to General Kearney.

Accompanied by notarized letter from General Kearney's family, a photograph of General Kearney's grandson holding this pistol, newspaper articles from San Antonio describing the capture of Santa Fe, letters from the Museum of New Mexico when the Kearney family was considering donating the pistol, family photographs of the pistol and an article about a similar made pistol identified to a Mexico City gunsmith.
$75,000
NY-004
General R E Lee as superintendent of West Point Military Academy in 1854 framed with photographs of his Lee Ancestor's written to his beautiful cousin Ella Carter in which he eloquently addresses her recent visit to West Point.

Lee's handwritten letter is at center, RE Lee signed photograph is at top and surrounded by Richard Lee the 1st Lee in America; and his son Richard Lee II, Thomas Lee the builder of Stratford Hall and Father of the Lee's who signed the Declaration of Independence; and Light-Horse Harry Lee father of Robert E Lee.

This rare Lee letter was discovered in the Carter Family recently and has never been on the market before. RE Lee was appointed as Superintendent of West Point by Jefferson Davis who would become the President of the Confederate States of America, he was US Secretary of War when he appointed Lee to the command of the most sacred Military School In America. Lee who normally showed little emotion adored his cousin Ella from the carter side of the family, as did the Cadet's when they met her in 1854:

My Beautiful Ella,
Come back to me you precious child you will not find anyone to love you half as much. Custis and I had a Sad Saturday. Many of the Cadets called to sympathize with us, but found us such poor company they soon left us. See what little faith you can place in the professions of these young men. Traveler (Lee's horse) arrived safely in Baltimore. Mary thinks his trot is none the worse for the journey. They said they were sorry at parting from you, but none can regret it as much as -
Your Cousin R E Lee

A remarkable and eloquent letter completely written by the most famous RE Lee. A showpiece from the Carter Family ( Illustrated in Carter Family book )
$17,500
NY-005
The earliest known maps and images of Native American Indians in what is now Florida of the French exploration and colonization of south Florida. The Theodor de Bry Atlas 1st edition published in Latin in Frankfort (Germany) 1591

The most famous and iconic Atlas of Florida with the earliest known maps of what is today Miami to West Palm Beach, with engravings taken from watercolor paintings by French artist and map maker Jacques Le Moyne de Morgues, a member of the short-lived French colony in Florida known as Fort Caroline in 1564, until the Spanish Army massacred the colonists and destroyed the fort, Le Moyne escaping with his life, his original drawings and maps were later sold to De Bry who illustrated them in this Atlas printed in 1591.

A wonderful and rarely offered folio size atlas in leather binding, with all 42 plates (1 copy), printed in Latin which is the rarest edition. The earliest drawings of Florida Native Timucua Indians who became extinct with few assimilating into today's dominant Seminole Indian tribe. A remarkable Atlas in excellent condition.
$17,500
NY-006
War of 1812 6 pdr Canon on Grasshopper carriage with axle marked Kinsley Iron & Machine established 1787 they produced Musket's during the War of 1812

A Rare War of 1812 Field Canon the barrel is 6 ½ feet long wt. 1500 lbs. trunnion dated 1795

A rare canon as very few Big Guns survive from the Revolutionary War and the resulting War of 1812 when the British tried to take America back just three decades after the American Independence from England. The trunnion is marked 1795 on one side and 'F" on the other, with the weight stamped on the barrel W.IV.XVII.X, the axel is marked "Kinsley I & M / Canton, Mass." They are known to have had contracts to produce muskets for the US Army as well as iron mounts and gun barrels for gunsmiths like James Perkins in Bridgewater, Mass. who also had a contract to produce flintlock muskets for the American army. The carriage has been restored using some of the original iron mounts including the axle and is in excellent condition. The iron barrel length alone is 6 feet 7inches, the overall length mounted on the grasshopper carriage is almost 12 feet, total weight barrel on carriage is just over 2,000 lbs. The gun and the carriage are in good displayable condition and is from an era in American history that is rarely offered. (free delivery with 1000 miles at no charge)
$25,000
NY-007
President George Washington's nephew Lawrence Washington Seal Fob ca. 1791 - while Lawrence was finishing school or at the time he began his practice as an attorney. The seal was a costly item for anyone to have had at the time. Lawrence's uncle George Washington had taken on the responsibility of paying for his nephews education after the Presidents brother had died. President George Washington had most likely paid for this seal as a gift to his favored nephew whom he treated like a son. Unique to the monogram on the seal are the letters LW with two flowers and the ends of the letter tips, form perfect snake heads. The heads represent both biblical and masonic symbolism of the Snake with Jesus. Seeing the full detail of these snake heads shows the exceptional quality of the engraver of Philadelphia. There are marks of a "V" and an "F", believed to be makers marks of Vallance & Shallus who were Philadelphia engravers. An Important Washington Family heirloom. (Provenance William Reese)
$12,500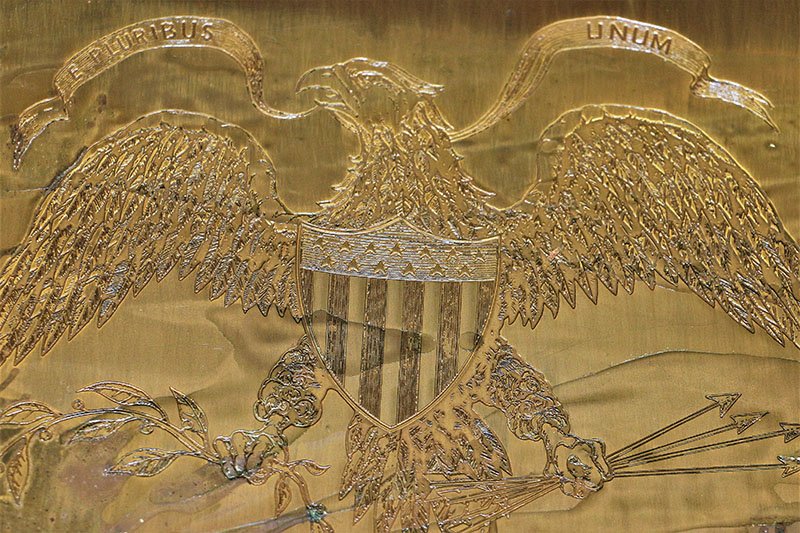 NY-008
Amos Doolittle engraved "American Eagle "Copper Plates ca.1770's - found hidden inside a small barn that is believed to be the documented workshop in the final years Amos was alive. (May 18, 1754 – January 30, 1832) Doolitte was an American engraver and silversmith known as "The Revere of Connecticut his engravings included portraits and maps, made in New Haven, Conneticut. He became famous for his four engravings depicting the Battles of Lexington and Concord which were based on his first-hand reconnaissance of the battlefield (which recently sold at auction for $500,000) The eagles are identical to those ultra-rare engravings, Doolittle was known as the only person who made a double run from two sets of near identical plates, the largest of any engraver in the 18th and 19th century. The berry's found on the plate are where here left his letter initial "D" in a few of the berry's. Like he did on his famous Napoleon in Trouble prints in the bushes and also found on the George Washington Portrait in the clouds on the US coat of arms section. The most striking feature that is only unique to Amos is the birds legs that are only found on the Lexington and Concord prints, identical to the smoke in the scene. The same design is also found in the smoke and fire of the Napoleon in Trouble prints as well. A Unique pair of Doolittle's copper printing plates never before on the market.
$17,500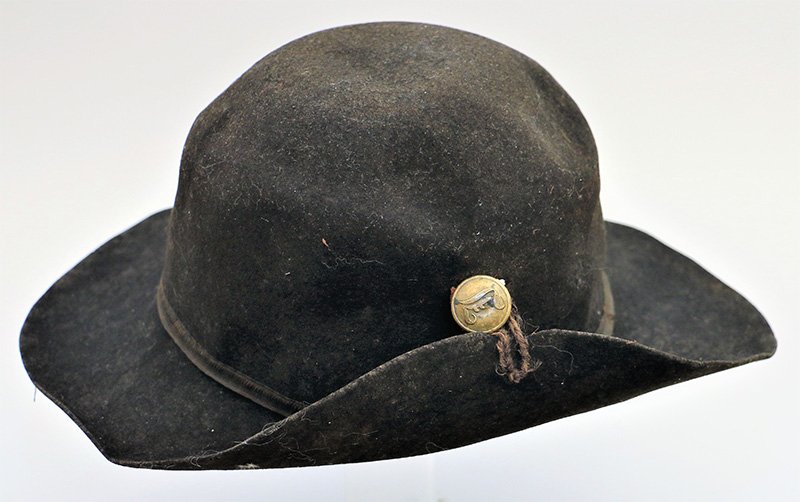 NY-009
Confederate Slouch Hat with CS Script Button – black felt hat with brass uniform coat Confederate 'I' button back marked by S. Isaacs & Campbell. A identical hat was illustrated in article entitled "Standard Issue Confederate Slouch hats". Lacking the sweat band yet a scarce Confederate Issue Hat. Accompanied by Les Jensen Letter of Authentication.
$12,500
NY-010
Confederate Privates Kepi – made of homespun twilled wool gray and white wool, with brass tin back buttons, crown has paste board liner, the chin strap is cotton painted black. A fine example of a Confederate kepi. Accompanied by Les Jensen letter of authentication
$7,500
NY-011
British 'Double Barrel' Flintlock Pistol – ca 1800 elaborately inlaid with silver thread, gold wash on the barrel's and checkered walnut grip. A remarkable gun and a showpiece with pair of .50 cal 9 inch barrels completely original and a Unique Showpiece.
$12,500
NY-012
British Blunderbuss Naval Carbine .50 cal with 12 inch spring loaded folding bayonet ca 1800 – a beautifully made British Naval boarding gun with large brass blunderbuss 15 inch barrel and Marlboro marked lock plate, the wood stock is excellent overall length is 30 inches. A Showpiece.
$12,500
NY-013
Remington Model 1860 Army revolver – serial 922226 .44 ca with lots of factory blue finish especially on the cylinder and barrel, the bore is bright and extremely fine. The action is crisp all in all a very well cared for Civil War Army revolver.
$2,450
NY-014
Butterfield Brass Frame Revolver – serial # 321 a very rare .41 ca gun produced during the 1st year of the war 1861/62 by Jesse Butterfield, Philadelphia with a 1862 Patent date struck on top brass barrel flat. Excellent condition the action is crisp, the wood stock is equally fine. A Rare Civil War gun.
$5,500
NY-015
Ottoman Empire Flintlock – Barbary Coast pistol era ca. 1810 – elaborate silver mounted used in the Mid-East during a time when the US Marines stormed the Shores of Tripoli to put an end to the Barbary Coast Pirates that had been capturing American Sailors and holding them and their ships as hostage. 12 inch .50 cal barrel with overall length 20 inches beautifully silver mounted with intricate Arabic designs. A Barbary pirate showpiece.
$9,500
NY-016
Indian Trade Pistol ca 1810 – made in London brass lock plate clearly marked Ketland who was famous for making guns and other trade items the American Fur Trade in North American. A rare Indian Trade gun with 9 inch solid brass .50 cal barrel with English gunsmith marked lock plate and barrel marked LONDON, and counter sunk 'TA' for Thomas Ketland. Excellent wood stock with owl head style grip. A Showpiece Indian trade pistol which is much rarer than the trade rifles.
$1,500
NY-017
Matched Pair of English Flintlock pistols – marked Blake – London on both the lock plate and top of the barrel.
$1,950
NY-018
President George Washington American Indian Silver Peace Medal made by Joseph Wright ca. 1792 – his initial's 'JW' silversmith marking at bottom verso, A Philadelphia artist Wright was not only a silversmith but worked in Gilbert Stuart's studio painting portraits of famous Americans like George Washington and Thomas Jefferson. Another identical Washington Indian Peace medal made by Joseph Wright is on display at the Woolaroc Museum in Oklahoma.

The United States soon after the government was formed began issuing beautiful silver Indian peace medals to various tribes as part of its official Indian policy after seeing the practice of Spanish, French, and British authorities. The medals were given as tokens of friendship and accepted as symbols of allegiance, and were highly regarded by the Native Americans and worn proudly and highly cherished, often being passed down from father to son within the Tribe. Washington personally presented Red Jacket Peace Medal in 1792 in Philadelphia. On March 13, 1792, a delegation of 47 chiefs representing the Seneca, Cayuga, Onondaga, Oneida, Tuscarora, and Stockbridge tribes of New York, arrived at the Nation's Capitol in Philadelphia. The chiefs met first with President Washington then other federal and Pennsylvania dignitaries. A Rare 1792 George Washington Silver Indian Peace medal.
$12,500
Celtic Weapons from 200BC – Sword / Shield / Knife all from the Celtic Tribes of Europe. Feared by the Greek and later the Romans armies alike, the Celts were known to attack in wild frenzy formations using their entire body to wield a sword in battle, they were the first to transition from bronze to iron weapons. The Celts are the forefathers to most of Europe, gradually immigrating to the islands of England and Ireland where they are perhaps most revered by their descendants. (accompanied by Letter of Provenance from a Austrian Collection)
NY-019
Celtic War Shield 200 BC – Iron with large Boss at center and scalloped edges, made of iron with large rivets. This was the main weapon of the Celts for defense, several are known in museums in Europe including the British Museum. It is also the rarest Celtic weapon and rarely come on the market. A showpiece.
$12,500
NY-020
Celtic Battle "Long" Sword 200 BC – This Iron age sword shows battle marks on the blade, stylized cross guard and a fine green patina, has a raised blood fuller down the center. A showpiece.
$4,500
NY-021
Dacian Knife & Scabbard 200 BC – with stylized designs engraved on the iron blade as well as the scabbard, known as the Sica it was a short sword or a long dagger carried by the ancient Thracians, Dacians and Illyrians it is depicted on Trajan's Column. A historically important edged weapon
$4,500
NY-022
Commander-in-Chief Dwight D Eisenhower – the most famous general of WWII and President of the United States 1952 -1960. Signed photograph by him in his 5 Star Commander's Ike Style Uniform, accompanied by a letter beautifully signed by him on Official Stationery celebrating Christmas in 1947 from Postwar Europe. A remarkable combination, magnificently framed by Ken Laurence who was he first to design wonderful frames for historical documents, his frames are simply the Best ! ( 20 x 30 in)
$1,500
NY-023
From Big Guns to small Derringer, Unique Serial #1 – 22 magnum rimfire serial # ROY JINKS 1, with short 1 1/8" barrel as new and virtually unfired. This gun was presented to Roy Jinks by the president of Charter 2000 gun company for his ongoing service as an ambassador to the firearms industry. The matte stainless steel surfaces rate excellent with a light turn ring on the cylinder. The black synthetic factory grips rate excellent. The beautiful revolver includes a factory hard case that is correctly labeled and numbered to the gun, soft case with Charter Arms logo, a pair of padlocks with a pair of keys, manual and paperwork. Included in the paperwork is a factory letter from president Nickerson Ecker of Charco, 200 Inc. dba Charter 2000 to Roy Jinks thanking him for his tireless efforts as an ambassador to the American firearms industry as a whole. He states this Dixie Derringer was manufactured on March 16, 2004 and given the special serial number of "Roy Jinks 1". A Unique derringer with Letter. (FFL REQUIRED)
$950
NY-024
A Unique Smith & Wesson "Prototype" of .460 Magnum presented to ammunition company for testing

A Magnum "Prototype" - serial #CHF0265, 460 S&W Magnum, 8 3/8" full lug and compensated barrel with a mint bore exhibiting limited tool marks in several of the grooves. This prototype toolroom revolver was sent to CorBon Ammunition for testing and later acquired by Roy Jinks the famous S & W Collector and personal advisor to Smith & Wesson. The stainless steel surfaces are excellent with only scattered light scratches, turn ring on the cylinder and other handling marks from test firing. The cylinder is a satin finish while the remaining surfaces are lightly polished. The .430" target hammer is hard chrome finished but the .400" smooth target trigger is color case-hardened. The pebble grain factory Hogue Monogrip with S&W logo have minor light scuff marks at the top of the backstrap. Each chamber is numbered in electric pencil on the outside of the cylinder and the caliber has been hand written on the side of the barrel. Another interesting observation is the model number is X'd out on the frame below the crane. The revolver also has the original S&W factory hard case correctly end labeled and numbered to the gun, a spare Patridge front sight blade and accompanying paperwork. Factory disposition sheets enclosed indicate this gun was shipped to CorBon Ammunition in Sturgis South Dakota on July 21, 2004, and returned to S&W on November 10, 2004 then acquired by Roy Jinks on July 6, 2005. Factory prototypes of Magnum's are virtually unknown, this one being Historical & Unique. (Provenance: CorBon Ammunition Co, Roy Jinks & S & W Factory workshop) (FFL REQUIRED)
$5,000
NY-025
A Rare Magnum - serial #CHW2583, 460 S&W Magnum, 8 3/8" full lug barrel with compensator exhibiting an excellent bore. This gun is the first production sample sent to S&W salesman Ken Sedlecky and later sold to Roy Jinks. The stainless steel surfaces rate excellent with a few light handling marks and a turn ring on the cylinder. The smooth .400" target trigger and semi-target hammer retain full hard chrome finish. The pebble grain factory Hogue Monogrips with S&W logo rate excellent. This revolver features black blade micro adjustable rear sight, green fiber optic front sight and compensator. The firing pin has been removed from this gun and is not provided. It includes the original S & W factory hard case that is correctly end labeled and numbered to this gun, a pair of internal lock keys, a cable lock with a pair of keys, manual and paperwork accompany the gun. S & W Factory disposition sheet and e-mail enclosed document this rare gun was shipped to S & W salesman Ken Sedlecky on February 23, 2005, returned to the factory on July 25, 2005 and acquired by Roy Jinks on July 27, 2005. The gun is in as new condition with minimal use and is one of the earliest Model 460 Magnum's produced. (Provenance: Salesman Ken Sedlecky, Roy Jinks, S & W store) (FFL REQUIRED)
$2,500
NY-026
Smith & Wesson Model 500 Magnum "Prototype" Revolver

A Unique .50 cal Magnum - serial #XXX3000, 500 S&W Magnum, 8 3/8" full lug barrel shroud plus compensator with an excellent bore. This Factory Prototype model was shipped to Shooting Times magazine as a test gun and later acquired by Roy Jinks through Smith & Wesson. The stainless steel surfaces rate very good to excellent with scattered light scratches, more prominent scratch forward of the triggerguard and a turn ring on the cylinder. The .430" target hammer and .400" smooth target trigger retain strong case-hardened colors with minor operational wear. The pebble grain rubber Hogue Monogrip with S&W logo rates excellent. The gun includes an unlabeled factory hard case, a pair of internal lock keys, manual and paperwork. Factory disposition sheets show this gun was originally shipped to Shooting Times magazine in Peoria, Illinois as a 'Prototype Model' on January 10, 2003. It was acquired by the Smith & Wesson Store on September 10, 2003 whom Roy Jinks acquired it from. A rare and Unique ' Magnum .50 cal Prototype' revolver tested by the famous Shooting Times magazine. (Provenance: Roy Jinks, Shooting Times magazine, S&W factory workshop) (FFL REQUIRED)
$5,000
NY-027
A Smith & Wesson .50 cal Magnum – Model 500 serial #XXX8339, 500 S&W Magnum, 8 3/8" full lug barrel shroud plus compensator with an excellent as new bore. The stainless-steel surfaces rate excellent, the gun is as new and unfired except for one factory test fire and still has the empty shell casing inside the factory case which is numbered to the gun. The .430" target hammer and .400" smooth target trigger retain strong case-hardened colors with no operational wear. The pebble grain rubber Hogue Monogrip with S&W logo rates excellent. The gun includes an unlabeled factory hard case, a pair of internal lock keys, manual and paperwork and empty test fire shell casing. If you collect Magnums this is the one. New & unfired. (FFL REQUIRED)
$1,750