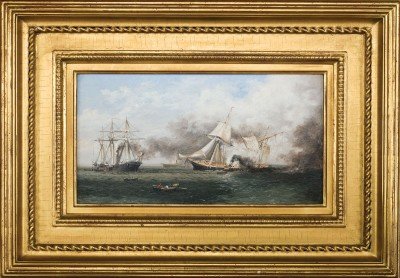 Painting by the most famous Naval Artist of the Civil War Xanthus Smith
This one of the most famous naval paintings of the Civil War, volumes have been written about the voyage of the Confederate raider "The Alabama" which sailed all 5 Oceans, wreaking havoc amongst the Union merchant ships. Commanded by Admiral Raphael Semmes and his 2nd Officer McIntosh Kell they lived off the bounties from there captures and their ports of call ranged from South Africa to Hong Kong and lastly Cherbourg, France where Semmes unloaded 50,000 Gold Coins into the French banks the day of this battle as he knew he wasn't coming back.
The Union Ironclad "Kearsarge" had just installed iron chain on its hull, the Alabama's canon shells literally bounced off the ship. Even though they were doomed they fought till the ship was sinking, then Semmes and Kell jumped overboard (neither could swim!) and were rescued by a boat from the neutral British Yacht "Deerhound" depicted in this painting of Semmes & Kell being rowed to safety. A magnificent oil on board, tightly painted in the very exact style of America's foremost naval artist Xanthus Smith. Signed on reverse "Xanthus Smith, Sinking of the Alabama" ca. 1865, overall size in frame 14 x 20 inches Ex Schwartz Gallery, Philadelphia.