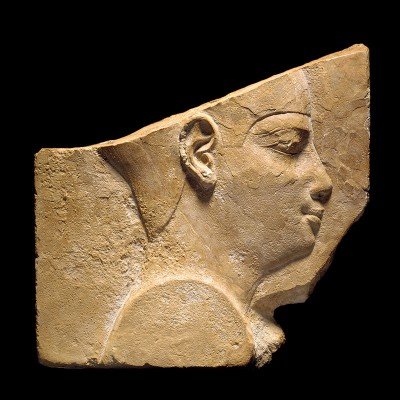 AN EGYPTIAN LIMESTONE SCULPTOR'S MODEL OF A PHARAOH HEAD
Ptolemaic Period.3rd Century B. C.
Sculpted in raised relief with the bust of a pharaoh in profile to the right, wearing the Blue Crown, with finely detailed ear, the hint of a smile on his full lips.15 x 16.5 cmProvenance:Arthur Sambon, Paris, 1937.Exhibited:Antikenmuseum Basel und Sammlung Ludwig, March - July 1997.Musee de Art et Histoire, Geneva, September 1997 - January 1998.Published:M. Page-Gasser and A. B. Wiese, Agypten: Augenblicke der Ewigkeit, Mainz, 1997, p. 292, pl. on p. 291, no. 198.